UPDATED: OCT-15-2014 - here is your Kill Shot. 2nd night of Mythic Raiding!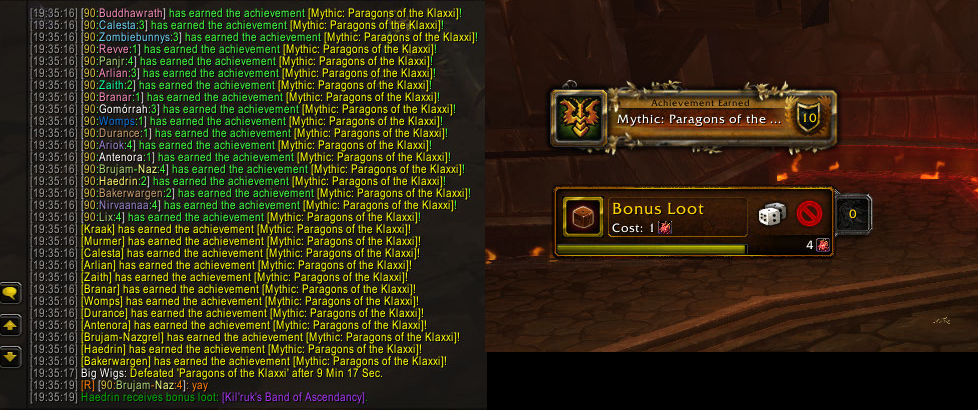 Original: Oct-11-2014
We've now progressed onto bugs. Personally I'm tired of bugs - we've been fighting them nearly as long as we've been fighting trolls in raids. AQ20/AQ40/Anub'arak/a whole zone of them in Pandaria, now the Heroic 25man Paragons of the Klaxxi. Whatever happened to the classics - dragons, giants, dwarves? This is a long tough fight. Sadly, I don't have a kill shot to show off (usually the highlight of any Cohors front page). But we are working on it!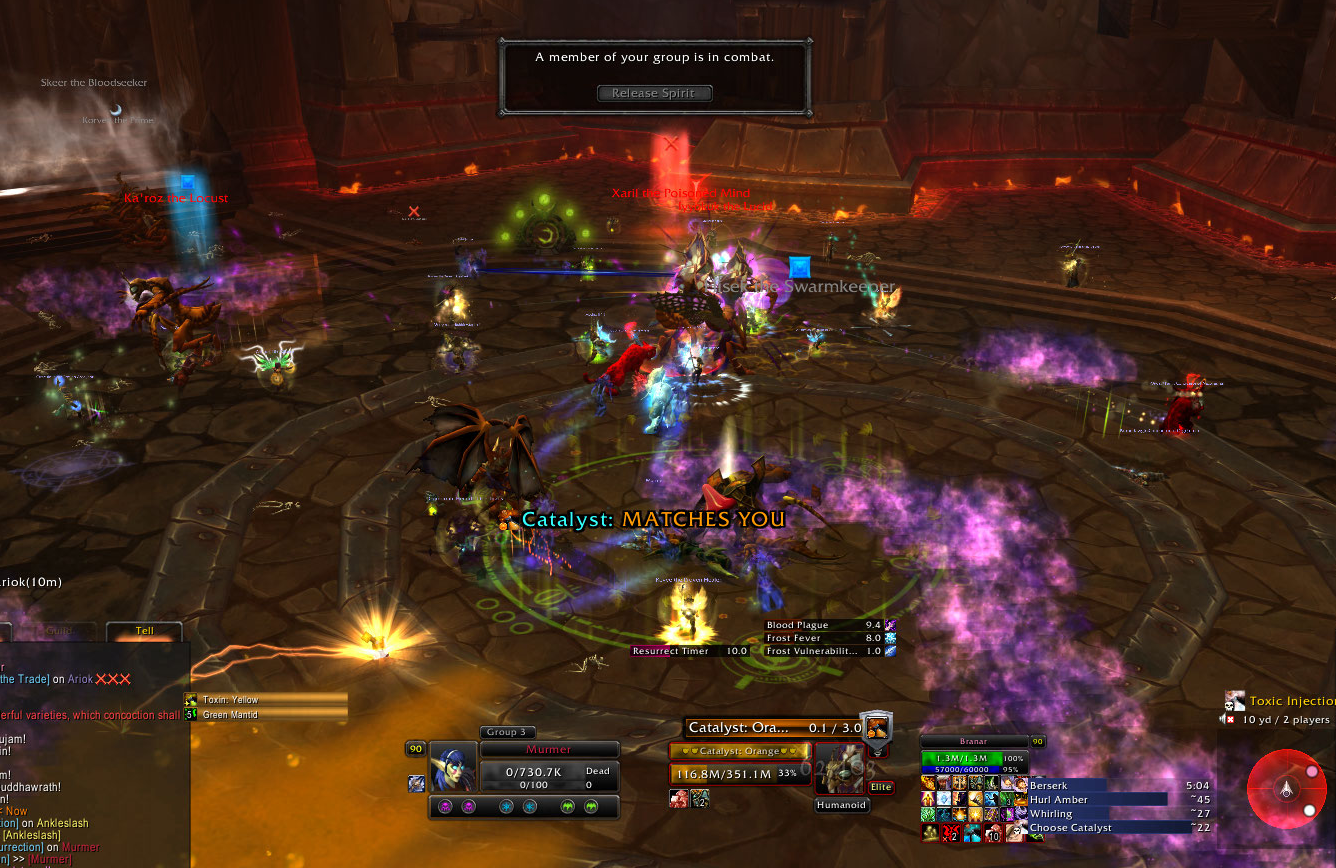 We're onto the 2nd half of them - but the ramp up in raid difficulty that we saw in Siegemaster Blackfuse certainly has continued to Paragons. Just brutally hard mechanics requiring a ton of focus. And very specific raid compositions - Blackfuse more then Paragons, but definately a far cry from the planned "Bring the player not the class".
For 25mans after a year in the tier, the attendance boss is almost as tough to overcome

This tier has now lasted over a year - with zero nerfs. (Some could make an argument that allowing 2 more upgrade tiers was a nerf - but really, it was not effective).

Having each boss have his own different mechanics leads to a lot of learning requiring many pulls

And each requiring explanations from Branar

We are definately having some focus issues - raid chat is filled with irreverent questions

We have begun to question our tanks knowledge of aggro mechanics. It's like they never even heard of tickle aggro.

Shockingly Blizzard never spent the time developing a /dance animation for the scorpions. The next sentence should be read in a Mon Mothma sad voice - "Many Cohors raiders died bring us this information"

Some folks take the meters way too serious

Luckily, our huntress Lix is there to walk them down off the ledge
Our officers are patient with us.

Our priorities are always fun - even if Triebh tried to ruin it with being healthy.
Sometimes we need more stimulants to get through raids


Seems like we've had more Battle.net failures/lag issues lately. Folks DC'ing probably on half our attempts.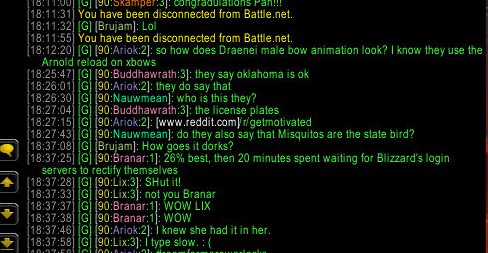 Our Hunter Corps is special to us - and requires their own group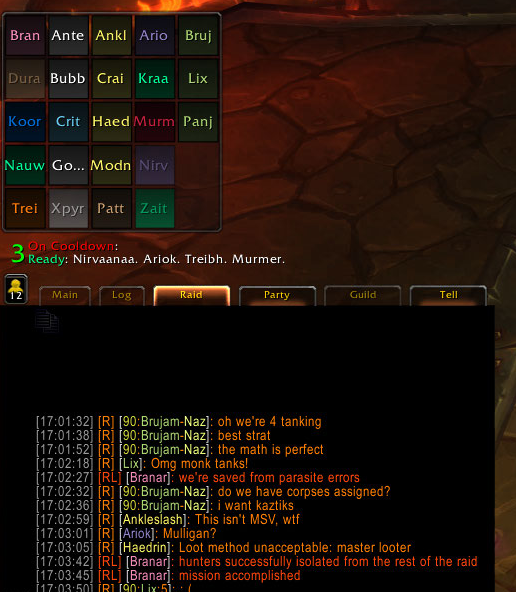 As Branar reminds us often, Cohors is not a democracy - but rather a fascist tyranny. We're all puppets in the cult of Branar.


For our older raiders/guildies who might not be online every night - you are not forgotten - well, kinda

We're not a guild who can pass up an Office Space quote when our guild leader feeds us a straight line

We are still adding folks - either returning raiders or new friends - at least we would if they were online
Beyond talking about our expansion plans, Cohors Praetoria will be at Blizzcon 2014 in force! We anticipate 14+ raiders - any retired guildies, friends of Cohors, Veknilash veterans - please get in touch with us for a round of drinks at the bar and a guild dinner on Saturday night! I also have an extra ticket still - so come hang out with us in Anaheim!